REZA Est. 1988 is a Dutch brand that offers a complete ready-to-wear menswear collection using carefully selected, high quality materials that enhance the perfect fit we always strive for.
We combine the focus for the individual wishes of our customers with our knowledge, passion and eye for detail to advise the perfect style.
We hope to see you soon.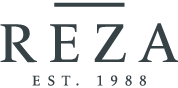 Adres
Verwersstraat 3
5211 HS 's-Hertogenbosch
website
denbosch@houseofreza.com
T +31(0) 73 690 98 67
openingstijden
Ma 12:00 – 18:00
Di 10:00 – 18:00
Wo 10:00 – 18:00
Do 10:00 – 21:00
Vrij 10:00 – 18:00
Za 10:00 – 17:00
Zo 12:00 – 17:00